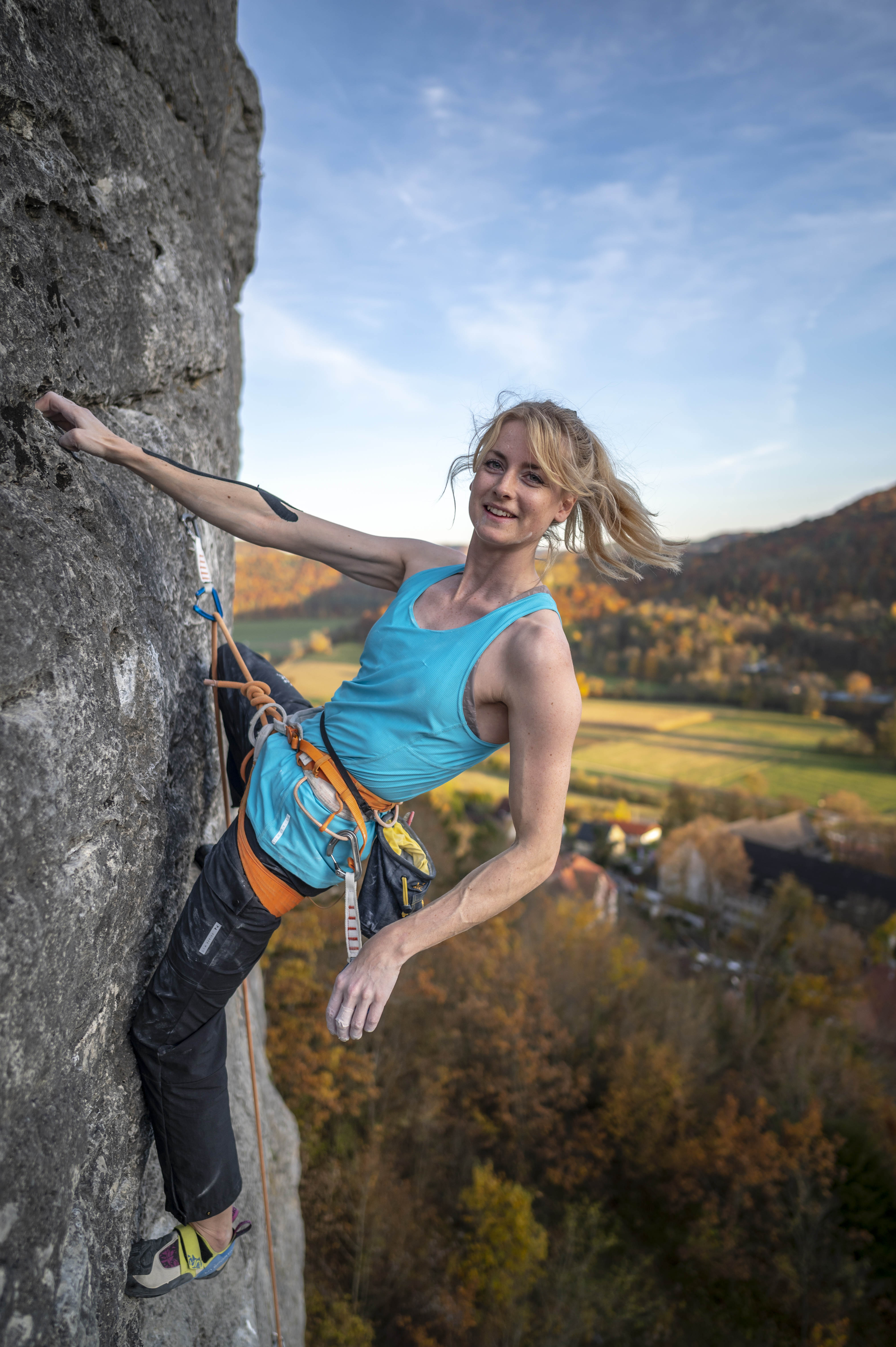 Frankenjura, 2021
© Stefan Riedel
I'm a professional climber based in Sweden.

Born in 1992, I grew up in Saltsjöbaden outside Stockholm, Sweden, and started climbing when I was 11 years old. Three months later, I placed second in the junior swedish championships and soon thereafter established myself as one of the best junior climbers in Europe. As a 20-year-old, I qualified as the first Swede for the world championship finals in climbing and the following year came sixth at the world games in climbing.
Between 2013 and 2017, I studied at the Stockholm School of Economics. Shortly after graduating, I decided to focus on climbing again and changed focus from indoor competitive climbing to outdoor climbing.
In 2019, I became the first (and still only) woman in the Nordics to climb a route with difficulty level 9a.
In 2020, I climbed a boulder with a difficulty level of 8B and thus became one very few women in the world to climb a 9a and 8B respectively outdoors.
In 2022, together with Sasha DiGulian and Brette Harrington I climbed Rayu, the hardest big wall ever for a female team.
I'm the founder of Moumo (a Swedish chain of climbing gyms).
I will continue to push the limits in sport and big wall climbs all around the world.
Climbing highlights

Big Wall Climbing

Rayu 8c, 610 m, Pena Santa, Picos de Europa, Spain

First Female Ascent with Sasha DiGiluian and Brette Harrington


Parzival 8b, 150 m, Alpstein, Switzerland

First Female Ascent


Sport Climbing

The Elderstatesman 9a, Frankenjura, Germany

First Female Ascent


Pure Imagination 8c+, Red River Gorge, Kentucky, USA


The Last Rites 8c+, Frankenjura, Germany

First Female Ascent


Golden For A Moment, 8c, The Cathedral, Utah, USA

First Female Ascent


Bouldering

Armstrong Assis 8B, Nockeby, Stockholm, Sweden

No More Greener Grasses 8A+, Mt. Evans, Colorado, USA

Moonlander Assis 8A+, Nockeby, Stockholm, Sweden

Borderline Assis 8A, Nockeby, Stockholm, Sweden